Forged Vessel Connectors | FVC
Long Weldnecks | FVC
Dating back to the 1970's under our Forged Vessel Connections (FVC) brand, Ameriforge is an industry leader in the manufacture of Vessel-Connecting flanges. Commonly referred to as "long weldnecks" these flanges offer an integral, reinforced solution that greatly reduces the costs associated with "built-up" pipe and re-pad solutions. FVC nozzles come in Heavy Barrel, Variable Body, Full Body, and Q-Lip configurations.
FVC carries a vast inventory of finished parts, forgings, and raw material in a wide range of material grades. This inventory, along with quick turn production capability allows us to provide short lead-time deliveries.
As a fully integrated manufacturer with expansive, in-house forging, heat treating, and machining, testing capabilities, we control every-step of production which allows us to ensure quality and timeliness of our product.
Long Weldnecks (LWN):
Our LWN is a basic standard flanged connection. This seamless product offers a nominal bore as well as a heavy wall thickness, making it ideal for highly corrosive applications.
Heavy Barrel Neck (HB):
Our HB neck furnishes more integral reinforcement than the corresponding size LWN which is accomplished with a thicker barrel neck section.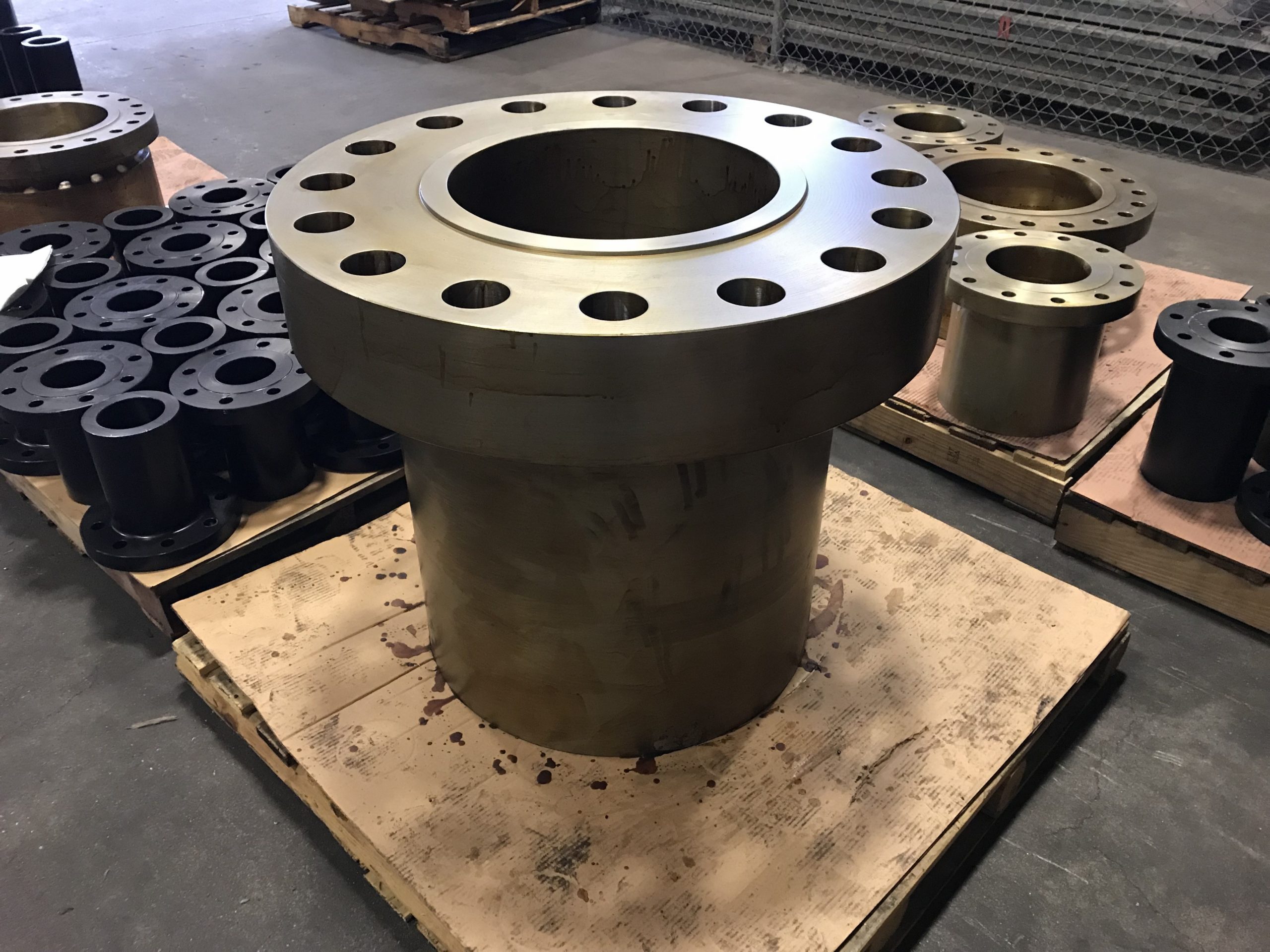 Full Body (F Nozzle):
Our FVC type "F" body connection provides the most reinforcement among the standard connections. The barrel O.D is the same as the flange O.D.
Variable Body (V Nozzle):
Our FVC variable body connections provide more integral reinforcement than an HB neck without the added cost of a custom forging or the added cost and weight of an F nozzle. V nozzles also provide a wide variety of standard barrel thicknesses to meet any application. They are provided in V1, V2, and V3 configurations.
Q Nozzles:
Our Q type attachment can be provided on any style FVC connection, and can be manufactured to allow a butt weld attachment for the nozzles with either radial or tangential orientation. The Q nozzle makes weld examination easier and allows radiographs of nozzle to vessels welds to be interpreted more accurately.
Studding Outlets:
FVC studding outlets provide a bolted, lighter connection requiring less material and a compact profile for integral reinforcement. This connector can be provided in flat or contoured bottoms.
Downloads
Supplier Center